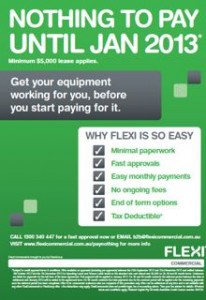 We have been promoting a special offer from Flexirent to retailers for the funding of our Point of Sale system. The buy now and pay nothing until 2013 offer is enticing for retailers who trade well through the Christmas period.
The delay in commencement of payment means they can get our Point of Sale system in, settle it down into the business, start reaping financial rewards before they have to make their first payment. It frees up capital for any last minute inventory purchases they need to make to leverage the christmas opportunity.
We have no restrictions or requirements on how people pay for their Point of Sale system. The Flexirent offer is there for those interested, it is not mandatory or required. We developed the relationship in response to customers, to provide them with payment options.