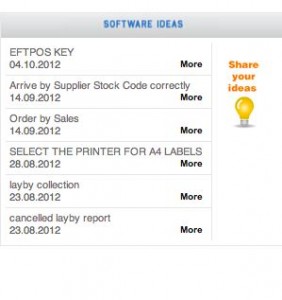 Since we launched our exclusive and innovative Software Ideas service on our website many hundreds of our users have engaged, sharing with us their aspirations, suggestions and thoughts on enhancements we could make to our Point of Sale software.
This engagement has led to some valuable and loved changes.
Next week, we further expand our engagement with the Software Ideas suggestions through a new senior appointment within Tower Systems to make even faster progress on enhancement suggestions and to share feedback on facilities in the software that already address suggested changes.
In creating a new senior customer-facing role, Tower Systems is delivering more evidence of how a well-run  traditional approach to retail software delivery and service is more valuable than the much-touted cloud solutions that rarely deliver personal service.
Using Software Ideas, our customers get to tell us what they'd like to see in the software and other customers get to transparently vote. There is nothing like this in any of our retail marketplaces as a quick check of websites will show. The latest changes take the value we harvest through Software Ideas to a new level.