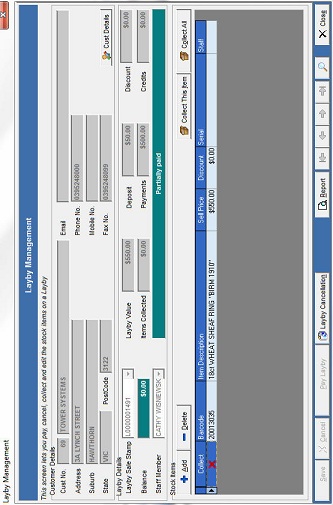 While many Point of Sale software packages offer LayBy (LayAway) facilities, few deliver flexibility which is vital in a retail situation. Ax retailers ourselves and having current experience with layBy, we have ensured that our software delivers retailer and shopper friendly facilities … delivering a classing win win.
We saw one software package recently where you had to tell the software that the customer wanted to Lay By an item before you started processing the sale.  This is poor design. using our software you can decide that it's at layBy at any point in the sale processing.
Giving retailers the ability to set, manage and advise LayBy rules is another way retailers using our software can bring needed structure and certainty to the LayBy retail shopper offer.
Using our Point of Sale software package, retailers can process the sale as a Lay By at any point in managing the sale.  This delivers excellent flexibility to the retail associates, the business and, most important, the customers.
From our LayBy setup facilities (see screen shot) through to sales counter processing, we ensure that we deliver the flexibility, security and accuracy which are vital to the enjoyably offering of LayBy services in any type of retail business.
We are grateful to the feedback from our customers which enables us to continue to evolve our LayBy software, to keep it best practice in our various retail marketplaces. the latest enhancements to our LayBy facilities are being delivered this month in a fresh software update.