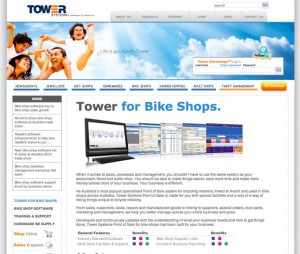 Enhancements to the bike shop software page of the Tower Systems website deliver greater assistance to bike shop retailers and their suppliers.
By introducing a news feed of bike shop specific news, Tower Systems is showing off its knowledge and experience in serving the needs of bike retailers and their suppliers.
We have been serving bike retailers with bike shop specific software for more than ten years and are proud to count hundreds of bike retailers as customers. At the recent Ausbike trade show in Melbourne we got to meet many existing customers as well as new sales prospects while we showed off, on our trade show stand, the Tower Systems difference for bike retailers.
The website enhancements reflect our commitment to continuous improvement in the service we provide our bike shop software customers.