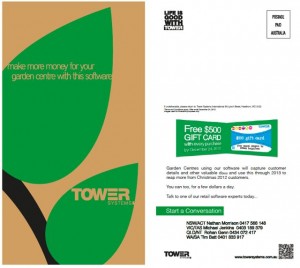 We are thrilled to be promoting the latest release of our Garden Centre software with a fresh postcard sent this week to all garden centres in Australia.
The fresh marketing collateral designed by for the campaign reflects the garden centre specific nature of the software and that what we are delivering is a fresh solution.
Too often POS software is presented in a geeky boring fashion. Our approach is to show through our marketing how attuned we are to the needs of our specialist marketplaces, like garden centres and nursery businesses.
Using our software, garden centres can tap into benefits way beyond fast and accurate transacting of sales. They can nurture a valuable shopper database, better connect with suppliers and leverage business data for future seasonal success.
Our new postcard is in the mail and will hit in the next couple of days. We are rushing toward 100 garden centres as customers. To get here within two years is a proud achievement for us.