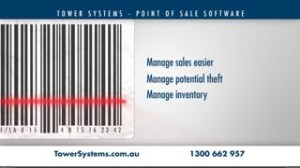 Tower Systems is soon to advertise its Point of Sale software on television as part of a national brand awareness campaign.
The TVC connects with enhancements to our website, direct mail advertising and engagement by our sales teams. It also reinforces our commitment to specialist marketplaces: jewellers, bike retailers, gift shops, newsagents, homewares shops, book retailers, adult shops, garden centres, nurseries and gun shops.
Professionally produced through an advertising agency, the thirty-second TVC will start airing next week for a ten day run.
The Tower Systems family is proud to be on national TV, pitching not only our business but the small business community more generally.