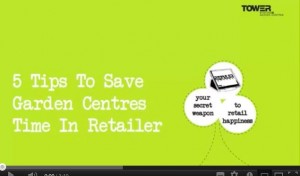 Garden Centre software company Tower Systems has published a video to its garden centre and nursery customers with five ways they can save time using the smart software.
Developed specifically for garden centres, this free training video will help users of the Tower POS software to tap into time saving opportunities and thereby get more form the use of the software.
This latest video is part of a series focussing on time saving opportunities for each market niche using the Tower software. The result is better returns from the use of the software.
Tower Systems customers have access to a library of training videos produced in-house by the company. retailers and retail employees like that they can watch a training video as often as they like, thereby mastering the software. The video library is especially valuable for new employees.