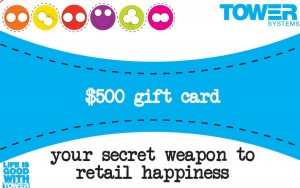 The Tower Systems $500 gift card offer pitched to retailers as part of our Christmas 2012 celebration is being embraced by small and independent retailers on a couple of fronts.
Retailers love the opportunity to save money and that's what this card helps them do. $500 off the cost of a POS system is a genuine discount – available for a short time.
Retailers love seeing gift cards work with our POS software. This $500 gift card from us has been designed to show off the process of selling and redeeming gift cards. There is nothing quite like helping a prospective user of our POS software experience some of the benefits to their business first-hand.
Pitched as part of our promotional campaign across various retail channels, the Christmas 2012 gift card promotion is a wonderful and practical way of showing off a commercially valuable opportunity delivered within our software.
The Tower Systems Point of Sale software has served gift cards for many years. The company also offers a personalised gift card design and manufacture service.