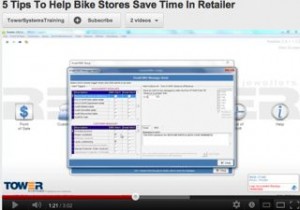 Bike shop software company Tower Systems has published a new training video developed specifically for bike shop retailers.
5 Tips To Help Bike Stores Save Time In Retailer is a training video created by the customer service team at Tower Systems to educate bike shop retailers and employees of bike shops on how to save time using the bike shop software.
This training video is part of a series of training videos being created in-house by the company to enhance the education opportunities for its customers. It illustrates our commitment to helping retailers get beyond traditional software training.
By helping bike shop retailers to get more form their software, Tower Systems is delivering valuable practical customer service, genuine assistance to leverage a better return on investment in IT infrastructure.