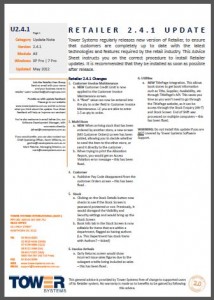 The large community of retailers using the Point of Sale software from Tower Systems were early last week given access to a major Point of Sale software update containing an excellent suite of operational and organisational enhancements.
To help retailers make the most of the valuable POS software update, Tower Systems published a training video as well as an update specific comprehensive advice sheet … in addition to a comprehensive email outlining how to get the most of the update in any business.
By offering update support documentation across a number of mediums, Tower Systems is delivering to its customers information in a flexible and valuable way and thereby better serving the needs of the broad variety of small businesses it serves.
A week after the software update was released, the customer uptake has been strong.
The Tower approach is to let customers choose when they wish to install the update in their businesses. This gives tower customers more control.