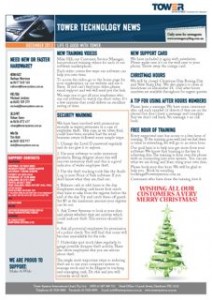 We have mailed our December 2012 newsletter to retailers using our Point of Sale software to share Christmas cheer and a range of practical advice designed to add value to their relationship with our software.
This latest newsletter is timely for the Christmas season as it features information abut retail business security. Christmas is a busy time for customer and employee theft but sadly this is often not discovered until later.
Our monthly newsletter is a professional communication with our retail customers. It's informative, practical and professional – a great window on the Tower AdvantageTM.
Included with this newsletter are two cards with all of our contact details – to ensure easy access to our help desk over the Christmas / New Year period.