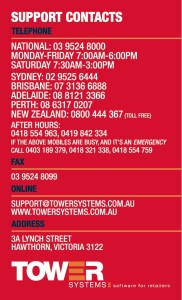 While many of us at Tower Systems are out and about with Christmas shopping this weekend, we have a team on call for urgent assistance requests from our customers.
With extra staff on and a significant jump in customer traffic, it's understandable that queries from retailers increase for us at this time.
We're here and ready to help.  We prepared our customers by sending out fresh copies of our support contact card making sure that everyone has out details in a public place in their businesses.
Point of Sale software companies are service businesses and as such are only as good as the last service contact. Making ourselves accessible is key to the service we deliver to our customers.