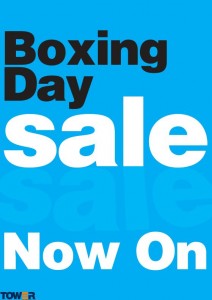 Retailers using our Point of sale Software have been able to setup their businesses to handle post-Christmas sales starting from today. Thanks to our catalogue facilities, pre-planning for sales to run from a set time is easy.
We have helped our retail business customers in other ways too, with free marketing collateral – in the form of two specially designed posters for promoting Boxing Day Sales available from our website, free phone assistance in setting up for the sales and reminders leading up to Christmas about the value of planning for these wonderful retail events.
Our unique and outcome-focussed suite of advice, collateral and smart POS software positions well with retailers. Our whole of business approach is unique in our various marketplaces.
In today's marketplace retailers are having to go beyond the traditional to win and retain shoppers. The same is true for software companies.