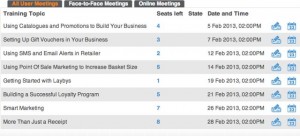 The new series of online user training workshops we announced just over a week ago are almost fully booked. Retailers using our POS software are thrilled with the new topics being covered and are responding with early bookings. Indeed, bookings have been so strong that we are planning scheduling more sessions.
In developing the new training we have focussed on helping participants achieve practical and valuable outcomes through best-practice use of our software. the numbers tells us we're on a good thing.
Participation is free, it's part of the exclusive Tower AdvantageTM program designed to help Tower Systems customers reach tangible business rewards from informed use of our smart Point of Sale software.
here is a list of the new workshops abbounced and now almost fully booked:
5th February 2013 2:00PM Using Catalogues and Promotions to build your business
7th February 2013 2:00PM Setting up Gift Vouchers in Your Business
12th February 2013 2:00PM Using SMS and Email Alerts in Retailer
14th February 2013 2:00PM Building Your basket Sales
19th February 2013 2:00PM Getting Started with Laybys
21st February 2013 2:00PM Building A Succesful Loyalty Program
27th February 2013 2:00PM Smart Marketing
28th February 2013 2:00PM More Than Just a Receipt
When we say participation is free, we even pay for the phone call to access audio – giving greater clarity than through computer speakers and a mic.
Developing and hosting training like this is not easy. For Tower Systems, it is a valued point of difference.