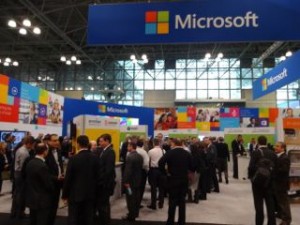 Members of the Tower Systems leadership team were fortunate to have time with several key Microsoft retail specialists in New York last week at the National Retail Federation Big Show.
The Microsoft presence was considerable, the most important of 2013 for the company and its partners at the trade show in the context of its retail involvement.
We appreciated seeing new hardware and hearing about software enhancements.  With software and software development changing rapidly attendance at events such as this are vital to keep up and to reach ahead, embracing fresh opportunities.
Many software companies had representatives at the trade show and conference to pick the brains of Microsoft experts. It was well worthwhile.
As the only software company from Australia in our respective specialist retail channels in attendance, we embraced the opportunity to gain insights that will enhance our competitive edge.