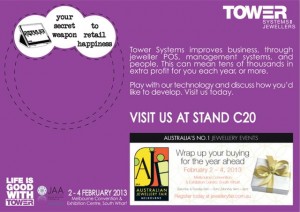 Tower Systems will be showing off its new software for Jewellers at the JAA trade show in Melbourne this weekend.
This boutique trade show is an excellent event at which to kick off our trade show marketing for the year. The fair this year is combined with a gift fair in Melbourne – attendees can freely move between the two shows. This gives us double the customer potential as we have terrific software for jewellers and gift shops.
We will also see plenty of homewares business owners as well as newsagents at this event as both work at expanding the product focus of their businesses.
The software we will be showing is fresh as it is the very latest version of our software, released just two days ago. This is very exciting as there are genuinely innovative facilities we are now showing for the first time, marketplace leading facilities that are sure to be loved by existing customers and desired by those not using our software.
Trade shows will play an important role in our marketing mix in 2013. We're excited to get started and show off the Tower AdvantageTM.