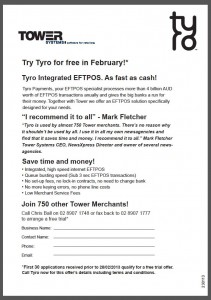 We are proud to have been promoting the Tyro broadband EFTPOS solution again this year to retailers using our Point of Sale software. We use Tyro in our own retail businesses and have first-hand experience like no other software company in this regard. It's fast, secure, easy to install and easy to maintain.
Indeed, the Tyro solution is, in our view, more secure that the solutions of many banks and other card processors.
Having used a range of EFTPOS solutions in our retail businesses over the years, Tyro is the best by far. We heartily endorse and recommend it.
Our customers have just received a special Tyro offer for February, making the opportunity of trialling Tyro more compelling.