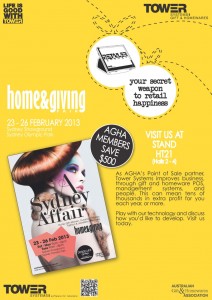 Tower Systems will be showing off its new Gift Shop Software at the AGHA Home & Giving trade show in Sydney at the end of this month.
As a long-term partner of the AGHA and regular at Home & Giving trade shows, we are well-established in this homewares and gift retail channels … with our software being used in hundreds of these businesses.
We are using this next Home & Giving show to launch fresh software for gift retailers and homewares retailers, software with new features, delivering new benefits to these retailers.
Months in the planning, our trade show booth will feature new software and our 2013 pitch fro the company, a pitch to serve the needs of independent retailers.
From the pre-show marketing collateral (click on the image for details) through to the trade show booth itself, our participation in Home & Giving reflects our professionalism, attention to detail and care for tangible customer (user) outcomes.