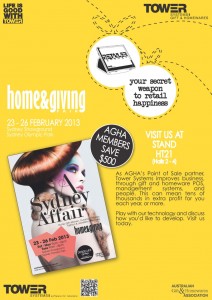 Tower Systems will be showing off new Gift Shop Software at the AGHA Home & Giving trade show in Sydney from tomorrow.  Our new software is ready, our trade show stand built, our product specialists all booked and new marketing collateral printed. We are ready for an exciting show, one where we get to meet plenty of users and make new friends.
This year we will have some extra special news for those who pass by our stand. Something we have not even forecast – until this blog post.
From the pre-show marketing collateral (click on the image for details) through to the trade show booth itself, our participation in Home & Giving reflects our professionalism, attention to detail and care for tangible customer (user) outcomes.