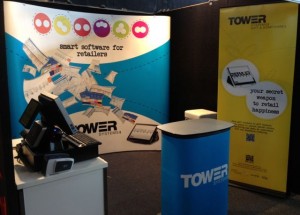 We are all setup and ready to roll for the Home and Giving Fair in Sydney starting from today. As the IT partner of the AGHA, the industry association organisers of the fair, we are well situated and pre-promoted to make the most of the opportunity.
This is an excellent trade show for us since we get to see owners of gift shops, homewares stores, jewellers, garden centres, newsagents and other businesses. We have specialist software for each of these retail channels.
Our stand at the fair will feature business experts who can help attendees see that while we sell specialist software, our real sell is the business help we provide – to leverage the software into more customers through the door, a deeper basket from customers and a bottom line for the business that makes it more valuable to the owners.
This trade show, this year, is all about business value. Tower Systems is pumped and ready to help its customers and prospects in the gift and homewares spaces to have a terrific 2013.
If you are at the Home and Giving fair – stop by and say g'day.