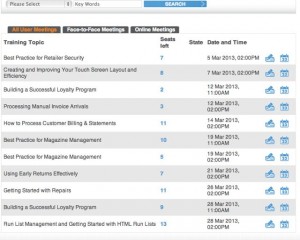 We continue to expand our offering of online training for retailers using our Point of Sale software in response to the overwhelming take-up of the new series we have put together for 2013.
Delivering on our promise of easy access to free online training, we are thrilled to find out commitment so wholeheartedly endorsed by our customers.  This makes our considerable time and infrastructure investment to be worth it.
As the only software company in our marketplaces with such a deep and consistent offering in online training, we appreciate the opportunity of the point of difference we are able to deliver with this.
Our online training is a terrific example of actions speaking louder than words.