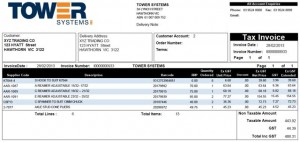 A great way to compare Point of Sale software solutions is to look at the business documents they produce. Invoices are an excellent example of the attention to detail provided by one software company over another.
The invoice options in our Tower Systems Point of Sale software are considerable. We're thrilled with the professionally looking and easy to follow invoice shown in the photo. This is supported from our software and represents excellent advice from some of our customers.
Guidance from retailers using our POS software continues to help us produce software that is good for business as well as easy on the eye.
Go on, compare this invoice to invoices form other systems!