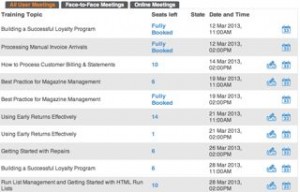 For years we have published details of upcoming online training workshops for retailers using our Point of Sale software so that they can plan their training. The curriculum is updated regularly with advance warning of new course opportunities.
We send emails to our customers to encourage their engagement. As sessions fill, we add more. Indeed, we often run four full or almost full sessions a week. All for free.
Our customers love this, that they can see well in advance the topics we will be covering and that they can add to the topics we cover.
This is another reason our online training is regarded as best practice in the specialist small business channels in which we operate. It is also a reason our training program gets so much word of mouth support.
Our training program is published on our website so that everyone can see it. We're happy to be transparent even if it does mean others can copy our topic ideas.