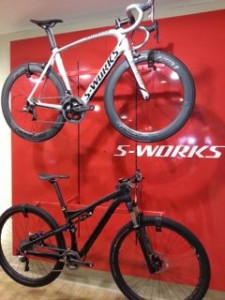 In a recent customer service field trip to Cairns, one of our team got to visit with Pump N Pedals – a bike shop using our bike shop software in Cairns. They loved the opportunity to see a best-pratice bike shop in action and making good use of our bike shop software.
The shop is a stand out among bike shops in Cairns. The photo shops "S-Wall", showing off Specialized bikes.
Pump N Pedals is a Specialized concept store. The S-wall features the top of the line bikes. These bikes two retail at $10k each.
See the Pump N Pedals Facebook page:  http://www.facebook.com/pumpnpedals to find out more about their business.
We appreciated seeing such a great bike shop.