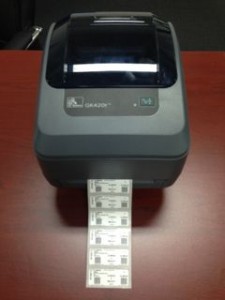 Retailers using our Point of Sale software love the options they have for printing barcode labels. From efficient labels on a sheet to one up labels on a strip, we offer variety in stock, design and label detail. Also that we offer labels on coloured stock, multi-part labels, weather-proof labels and a variety of other options demonstrates a commitment to flexibility.
The photo shows one version of our labels for jewellers produced using our jeweller software. the label options for jewellers cover a broad range of needs from the high end to the everyday. That we cover the spectrum demonstrates a customer-focus and flexibility in our software that positions us well in the marketplace.
Barcode labels are important in just about any retail situation not only for the accurate barcode but also for the other details on the label – and the professionalism with which this is presented. Indeed, the humble barcode is more important to many retail situations than first thought. It can separate one business from another. Get it right and you make a proud statement about your business. Be lazy with your barcode labels and you show your business as being disinterested.
We are thrilled to offer such a point of difference in our barcode label options.