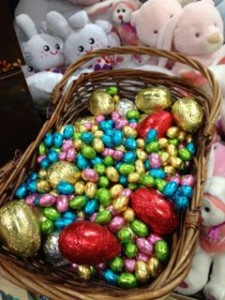 Tower Systems Managing Director Mark Fletcher loves Easter Egg chocolate. He says it's different to regular bar chocolate. In a retail store recently he bought some loose eggs – to taste test them of course – and was shocked at how long it took to complete the sale using POS software from another software company.
Three small eggs took around ten keystrokes – it could have been more as Mark was just wanting to eat the eggs.
Using the Tower Point of Sale software the same transaction could have been completed (through to cash drawer opening and receipt printed) in three keystrokes.
Sales efficiency at the counter is vital in any business. Every keystroke eliminated is a potential mistake eliminated. removing keystrokes relies of smart POS software backed by god training and excellent customer service from the software company. This is where Tower Systems excels – we happily work with retailers to eliminate keystrokes at the counter to drive efficiency and through this improve customer service.
The eggs were delicious apparently.