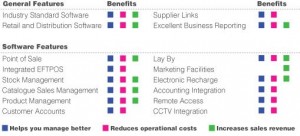 The Tower Systems Australian developed adult shop software is suitable for adult shops around the world.
Going beyond traditional off the shelf POS software, our adult shop software seeks to deliver a smart business solution to these usually independently owned retail businesses. Cutting theft – employee and customer theft – is a one of many functions provided. Theft reduction is achieved through good controls, facilities that serve businesses well with smart tools and controls and the ability to go behind the curtain and see how people behave and from this to gain understanding.
From the back room to the sales counter, this software helps adult shops operate remotely, under management – with peace of mind for the owners of the business. Existing users of the software also help guide future developments as the software is regularly enhanced to serve an evolving need.