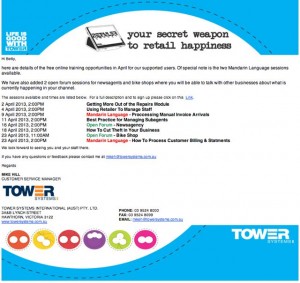 Tower Systems has sent details of its online workshop training opportunities for April to all retailers using our Point of Sale software.
This email speaks to the professionalism of the company – presenting information on the workshops in a visually professional way. This is the standard of our customer communications.
The email also represents our corporate branding. This is as important for us as branding is important for retailers. The branding builds confidence. It shows off professionalism that retailers can expect from our software and our customer service.
The latest free online training extends the reach of the services provided by the Tower Systems support team to our retail partners.