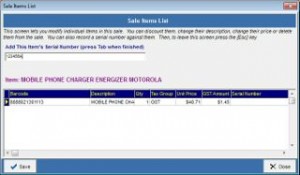 The serial number tracking services available through our smart Point of Sale software are appreciated in several of our marketplaces.
Developed with jeweller and bike shop retailers originally, the serial number tracking tools in our POS software have been enhanced to meet evolving needs of these retailers as well as gun shops.
Serial number tracking requires accuracy and focus in serving the needs of the retailer, customer and other parties. Achieving this without negatively impacting the traffic flow at the counter is a challenge we address in our software.

Using serial number tools, retailers are able to track individual items sold to meet regulatory record-keeping requirements as well as track items for the benefit of the customer and the business in terms of warraty and other future activity around a specific item purchased.
retailers using our software can also find previous sales by searching using a serial number.
In addition to specifically serving the needs of tracking serial numbers of items sold, the software tools also work well in areas with similar needs. The software gives even more flexibility to the overall Point of Sale software package.