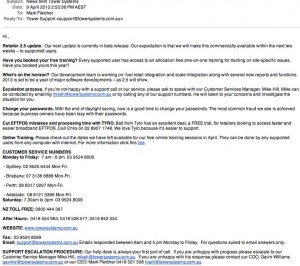 Weekly email is one way Tower Systems communicates with retailers using its Point of Sale software. We keen it simple and easy to read. We respect that retailers are time-poor and therefore keep the weekly email comms to topics they need covered. Those who want more information can easily dig deeper.
The image is from our email this week. Click on it for a larger version.
The consistency and efficiency of our weekly email reflects on the consistency and efficiency of our POS software and the support we provide.
We supplement our weekly email with communications for specific retail channels in which we serve so as to not confuse other retailers with information that is channel specific.
Why does all this matter? Retail success can depend on making the most of your software. Tower Systems provides many opportunities for retailers to know what they need to know to make the most of their POS software.