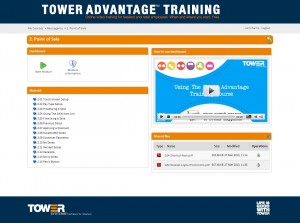 A core asset of the new Tower Systems Training Academy launched earlier this week for retailers using our Point of Sale software is the website facilities that guide retailers and their employees accessing the training resources.
Assembled by retail channel and work area within each business, the training materials can be accessed in our recommended sequence, ordered by topic.  The image shows some of the topics covered in Point of Sale training.
each training module, video, is around eight to ten minutes long. We have found this length to be ideal for people genuinely learning what is to be covered.  They can digest this is a brief break at work or at home.  The short videos make training accessible and genuinely beneficial.
This is a world class training platform packed with world class training materials. The whole initiative has been put together internally here at Tower Systems.  It is being made available to Tower AdvantageTM customers for no additional cost.