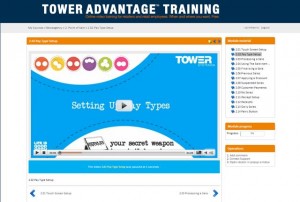 Here's an example of the level of detail offered in the new Tower Systems Training Academy online training video resources. The images shows the starting shot of the setting up payment types training video. It takes the student through how to do this using the software.
The beauty of the training videos and they way they have been assembled with our exclusive online training portal is that retailers and retail employees can cover one subject or a whole curriculum. That is, if someone wants to learn how to setup payment types they can watch this video and be done. If they want to be properly trained on our software they can do the curriculum that includes this payment types video.
This is an excellent resource for our POS software retail partners, one which is already delivering value and drawing kudos.