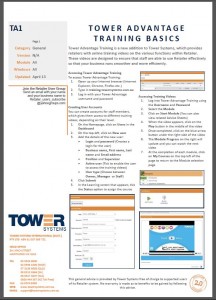 Tower Systems has published an advice sheet to explain to retailers using its Point of Sale software how to access to extensive online training resource launched by the company.
This new advice sheet explains how to use our new website training facilities that were launched at the same time as the video training content.
This advice sheet itself speaks to the professionalism of the company in its approach to user training.  Click on the image to see a larger version. The content is easy to follow, professional and useful to anyone regardless of their technical expertise. This is a feature of all of the Tower Systems training materials including the new video resources – they take the user on a journey, building expertise and confidence.