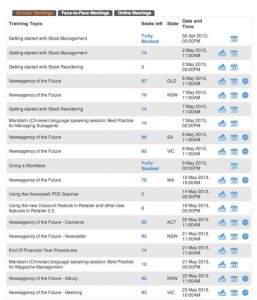 In addition to the excellent new video based, website accessible, training curriculum launched a few weeks ago, Tower Systems engages with its customers and others in its retail niches through an extensive range of free face to face and online training opportunities.
Second to none in each of its specialist marketplaces, the Tower suite of training is a valuable point of difference for Tower Systems and its partners.
As the image shows, plenty are engaging with the training opportunities, learning better abut how to use the software to their advantage.
By publishing its training schedule long in advance, retailers and retail employees can schedule their time to engage when it suits their feeds.