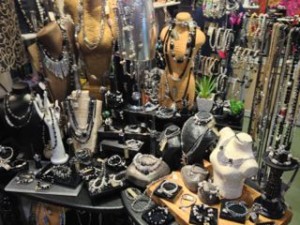 Retailers selling jewellery are benefiting from excellent jewellery stock facilities embedded in the Tower Systems Point of Sale software.
Thanks to engagement with a broad range of retailers as well as suppliers, the Tower software has been empowered with excellent stock control, sales, repairs and business management tools.  These are used in a range of retail channels selling jewellery … from high end jewellers selling pieces priced at $20K and more to retailers selling everyday jewellery items such as those in the photo.
It's our engagement at the supplier end that helps us help the retail channels better manage stock. recently, we attended a supplier trade show, where the photo was taken, and discussed accurate product tagging and the supply of electronic data to retailers to help stock management from the get go.
Tower Systems works with suppliers to help improve the experience for retailers. The result is more accurate data and time saved.