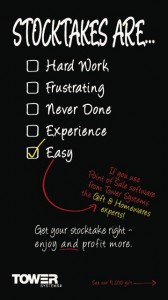 Tower Systems has announced a special POS software offer for gift shops, promoting its gift shop software with an offer of a free PDE – for fast, easy and portable stock takes – for anyone purchasing a package system by June 30 this year.
The latest gift shop software offer, promoted using a professional postcard, has been sent to all gift shops in Australia. The postcard itself reflects the professionalism of the company and our software.
We are targeting the end of financial year stocktake time given that it's tough work for many small business retailers like gift shops.
Our solution saves time and money – every year.  Plus it provides a more consistent and valuable data framework on which the gift shop businesses can rely for making good business decisions.
Gift shops using our gift shop software tap into benefits beyond easy stock takes – they save time and money in many other areas plus they benefit from greater control over the business and better quality business decisions which flow.