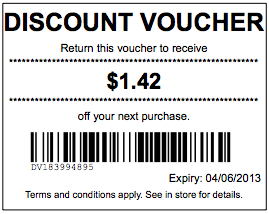 POS software company Tower Systems launched a powerful new sales driving tool in the latest release of its Point of Sale software last week.
Discount Vouchers are proving to be an excellent driver of shopper engagement in the retail businesses. Live testing commenced in secret in February this year.
Vouchers are automatically printed based on items purchased and based on rules set by the owner of the business in which they are running.
The new Discount Voucher facilities provide retailers with powerful levers with which to drive greater shopper engagement, to get people buying items they had otherwise not intended to buy.
Discount Vouchers are changing shopper behaviour – from small impulse purchases to considered purchases.  we know this from the comprehensive data we have gathered from the live use of the facilities since February.
What Tower Systems has delivered in Discount Vouchers is genuinely unique, fresh and exclusive to the business. Others may copy or say they have what is available in Tower today but they cannot because of the proprietary nature of what has been carefully crafted and now delivered.
Beyond the vouchers themselves and how they change shopper behaviour is the powerful business reporting that empowers retailers to control the vouchers for the financial benefit of the business.