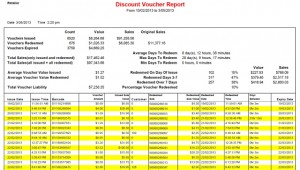 The new Discount Vouchers facility released by Tower Systems after months of secret in field testing has been packaged with a suite of business performance reports that help retailers drive maximum value from the power new shopper loyalty facilities. These reports document shopper engagement and the value to the business of this. They are key to retailers extracting value from the new facilities.
Packaged with three valuable management reports, the Discount Vouchers facilities enable retailers to track shopper engagement from the initial purchase through to the redemption. The report shown here is the first of three reports, it provides a snapshot view of what is happening in the business – vouchers issued, redeemed and expired and the speed within which shoppers engage.
The experience over the almost four months secret trial of these exclusive facilities is that retailers use this reported performance data to tweak the levers within the Discount Vouchers to deliver even better outcomes from the shopper loyalty program.
Delivering a powerful facility and backing this with professional and well considered management reports gives to shoppers a more valuable solution. This is the feedback from the retailers who have been testing and using the Discount Vouchers in their businesses through the secret trial period.
In delivering Discount Vouchers in its Point of Sale software, Tower Systems is delivering leading-edge loyalty facilities that enable retailers to break free from the me-too approach of points based programs that shoppers have become bored with and untrustworthy of.