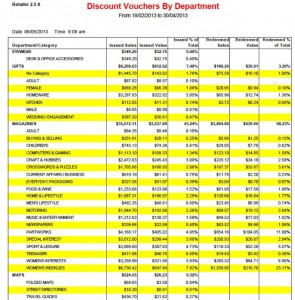 In addition to tracking vouchers issued, redeemed and expired using the Discount Vouchers facilities released by Tower Systems in its Point of Sale software, there is a report that shows the products benefiting from redemption of the vouchers. This report helps retailers make more money.
Retailers secretly testing Discount Vouchers since February this year have been excited to see the categories of products shoppers use the vouchers to purchase as they have often been products they did not expect. This information is an eye opener, providing a fresh view of the business.  This delivers even more value from the Discount Vouchers than the facilities themselves.
In providing retailers with these Discount Vouchers reporting tools, Tower Systems is empowering retailers with information to drive business decisions and an delivering insights into how the facilities are being used by shoppers – this is gold for retailers.
The Discount Vouchers facilities come with excellent business levers that can be adjusted to change shoopper behaviour. This is where the reporting tools shine – in guiding retailer engagement and through this driving business performance.