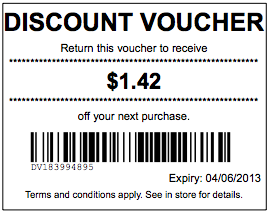 Retailers using the Tower Systems Point of Sale software have rushed to take up the opportunity of the ground-breaking Discount Voucher facilities released for commercial use in Retailer 2.5.
Seen as a game-changer in shopper loyalty stakes, the Discount Vouchers facilities are being discussed by Tower users when talking about the update. the company is tracking uptake and it's considerable.
While the Tower software continues to support VIP / loyalty cards (as it has done for many years) if's this new and innovative approach to shopper loyalty that has captured the imagination of the Tower retailer community.
By front-ending the loyalty reward, the Discount Vouchers engage shoppers earlier. They also enable the capture of shopper details for marketing and promotions – offering the best of the old and the innovation of the new.
While they have been in live use since February this year, Discount Vouchers were only commercially released to the wider Tower user community earlier this month.