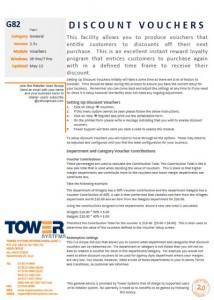 Tower Systems published comprehensive written advice when releasing the Discount Vouchers facility with its Point of Sale software earlier this month. This peer-reviewed advice has been instrumental in helping many retailers embrace the new facility.
By providing written documentation as well as over the phone advice and other support access points, Tower Systems is ensuring that retailers are able to access everything they need to use the new Discount Vouchers. Indeed, the level of care taken in providing advice and help speaks to the extent Tower Systems goes to ensure its customers have a good experience with new facilities.
Provided with the software update, the advice sheet is comprehensive and offers excellent guidance to retailers in the setting up of Discount Vouchers for the first time.