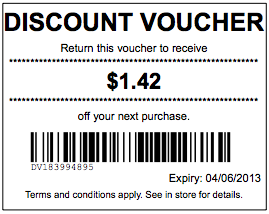 Thanks to the secret trial release of the EXCLUSIVE Discount Voucher facilities in the Tower Systems Point of Sale software in February this year, the company has access to insights into how shoppers are interacting and changing behaviour as a result of the new tools.
From anecdotal evidence of behavioural change at the sales counter to shopper returns a week or more out from receiving a voucher, the Discount Vouchers are changing shopper behaviour.  We see this across various businesses.
Thanks to smart tracking and reporting, we see how every voucher is treated. If someone comes back in 20 days after receiving a voucher, the software knows what was in the original purchase and what is in the purchase in which the voucher is redeemed. This data provides retailers with evidence backing up anecdotal data – it can feed fact-based decisions on adjusting the levers of the Discount Vouchers tools.
One retailer shared this story:
We had one customer shopping with us for the first time buying ink for work. The voucher he received was enough for him to buy a magazine he'd only occasionally treat himself with. He said for sure he will be back within the month for more ink and another free magazine. We expect this customer to be worth $1,500 a year.
And here is another story:
A mum bought some birthday cards and gave the voucher to her daughter who used this and her pocket money to buy a Beanie Kid.  She's a Beanie Kid collector and said she will be back for more.  A young Beanie Kid collector can be worth hundreds of dollars a year.
Every day in the secret trial stores since February there have been stories like these playing out, stories of customers deepening their engagement with retail businesses because of the Discount Vouchers.