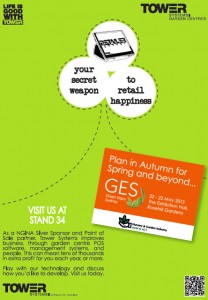 The Tower Systems garden centre software is on show this week at the Green Expo Sydney, an event of the Nursery & Garden Industry Association of NSWACT.
We are honored to be a silver sponsor of the association and this important event.
On show will be our new software for garden centres and nurseries.  Trade show attendees will get to see fresh software designed for their particular business niche, software developed in close consultation with their colleagues.
We are looking forward to feedback that will help up enhance our garden centre software event further – trade shows are an excellent opportunity for this type of networking and learning for our sales and software development teams.
The image shows a flyer we have produced to promote our participation in and location at the trade show. It's been sent to all garden centres and nurseries in NSW and ACT over the last week.
We're excited for what is expected to be a terrific event.