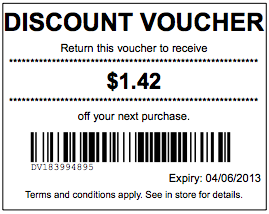 The Discount Vouchers facility released in the Tower Systems Point of Sale software two weeks ago is an excellent example of the value of retailers being covered by a software support agreement.
Tower Systems included the completely new facility in the software for no extra charge – even though it could have charged since this was a completely new facility- separate to existing VIP and loyalty facilities in the software.
Adding value like this, delivering completely new functionality, is not what software companies usually do. It reflects on the tower commitment to genuinely add value without costing its user community anything extra.
Tower AdvantageTM customers have access to the Discount Vouchers facility and other enhancements in the software for not additional charge.  In addition to the Discount Vouchers facility itself there is documentation on how the use the facility, personal setup support and other facilities for making the best use of the new tools in your own retail business. Tower is taking a whole of business approach to introducing Discount Vouchers.
This is an excellent and appreciated point of difference for Tower Systems customers. It provides retailers using other software another reason to make the switch.