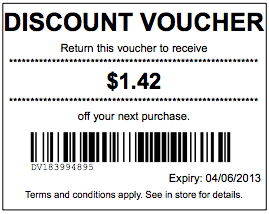 The most consistent experience from retailers engaging in the new Discount Vouchers facility released now in the latest Point of sale software from Tower Systems is the wow factor, the pleasure and excitement from shoppers happy with a fresh approach to rewards for loyalty.
Embedded in the wow response is a boredom with points based loyalty programs. Retail shoppers are tired of accuring points of different value and having, too often, to jump through hoops to access the points.
The time was ripe for change and Tower Systems has delivered change with its new Discount Vouchers approach.
While still supporting the decades-old approach to points based loyalty / VIP cards, the new Discount Vouchers facility delivers a genuinely fresh approach that is getting shoppers engaged beyond what is traditional – spending more and sooner and this is vitally important in retail today.
Tower Systems has delivered access to the Discount Vouchers facility to all Tower AdvantageTM customers without additional cost.