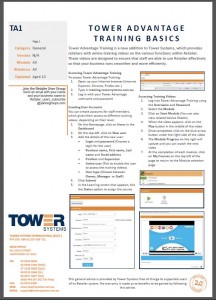 Six weeks ago, Tower Systems has released the most comprehensive and most accessible POS software training ever produced for small business retailers and their employees.
Launched as the Tower Systems Training Academy, Tower customers have access to a customised online facility through which they can access fresh, relevant and easy to follow training for their particular software.
In a WORLD FIRST for newsagents, gift shops, jewellers, bike retailers and other POS software users, business owners and employees using the Tower software can learn how to use the software when and where they want without having to pay extra for the privilege.
Separate curriculums cover each retail channel, delivering retail channel specific specialist education.  The total training content available per retail channel is between seven and ten hours.
The training helps ensure new employees learn the software properly and it provides existing employees the ability to refresh knowledge and learn more.
With retail changing and demands on business owners and their employees growing, good knowledge is vital to efficient and profitable newsagency management.
This exclusive new training resource includes more than 100 training videos for each marketplace. each video is brief, allowing comfortable digestion of the content.
Professionally produced in-house by Tower Systems and peer-reviewed, this training program is accessed through curriculum platform just released on the Tower website.
Access to this new training resource is free to all Tower AdvantageTM customers.
The content in the training program will be updated to reflect changes in the software. New modules will also be added in response to customer feedback and suggestions.
Anyone undertaking the video based training can use the resources of the Tower help desk to have any queries answered. They can also participate in any of the regular weekly live online training workshops hosted y the company. They can also attend face to face user meetings and explore queries.
This is a truly wonderful resource that will bring more retailers to the Tower communities of newsagents, jewellers, bike retailers, gift shops, homewares stores, adult shops, garden centres and gun shops.
The image shops an advice sheet created to help retailers and retail employees make the most of the training resource.