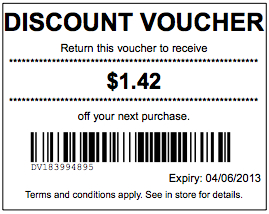 The new Discount Vouchers facility released by Tower Systems in its Point of Sale software is proving to be genuinely unique. A recent functional comparison showed a considerable difference between the solution from Tower and one claimed by another to be similar.
While we have no trademark on the term Discount Vouchers, we do own then intellectual property that is the Discount Vouchers facility within our software.
Comparing the facilities, flexibility, reporting and critical business levers, the Tower software shines, it's unique and through this, in our view, is far more valuable.
One reason that our solution would stand out as better 1s we're retailers ourselves. We developed this facility using some of our retail businesses and live guinea pigs.
We leverage our ownership of retail businesses regularly to play secretly as we develop leading edge facilities for our retail customers.
The Discount Vouchers facility shows off the value of the Tower approach. Those who compare will see it too.