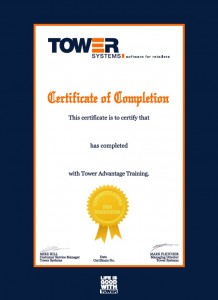 Tower Systems will provide a personalised professionally prepared certificate of achievement to any retailer or retail business employee completing one of the curriculums available through the recently launched Tower Training Academy.
The certificate provides a practical representation of considerable study achievement into our Point of Sale software. It also adds value to a resume – attesting to the professional training that has been completed.
The development of the certificate is another level of thoughtfulness by Tower Systems of those engaged in the professional training being delivered through this program to small business retailers and their employees.
The training program is unique for small business retailers like newsagents, jewellers, bike retailers, gift shops and garden centres. It's been delivered as a result of considerable investment by Tower Systems.