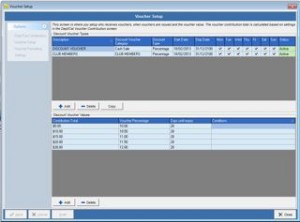 Tower Systems last week published expert advice on making the most of the exclusive Discount Vouchers facility released in our Point of Sale software last month following three months of secret trials.
The expert advice outlined ways to guide shopper behaviour through the levers embedded in the Discount Vouchers facility.  Based on real-life retail experience with Discount Vouchers, the advice has been appreciated by retailers using the Tower software as providing helpful advice.
Developing good software is just part of what a good software company does. It must back the software with excellent documentation and training and it must provide in-context business operations and management advice to help all businesses make the most of the software.
Owning and operating retail businesses using the Discount Vouchers facility itself provides Tower Systems with a unique opportunity that the company leverages for its customers.
Working with VIP card programs and other loyalty facilities, the Discount Vouchers facility provides excellent flexibility for retailers looking to offer a competitive point of difference against larger retailers.