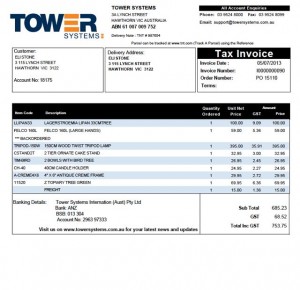 Jewellers, gift shops and other high-end retailers love the invoice flexibility in our Point of Sale software. With our template approach, retailers are able to create attractive invoices.
The flexibility is appreciated as is the ability to include logos and other treatments to represent the type of business in a manner which it prefers.
Producing an invoice out of POS software is straightforward. Professional and flexible invoices speaks to the professionalism of the software as an invoice can be as much about marketing the business as it can be about collecting payment.
The invoice shown is one of the templates that can be used in the software from Tower Systems.